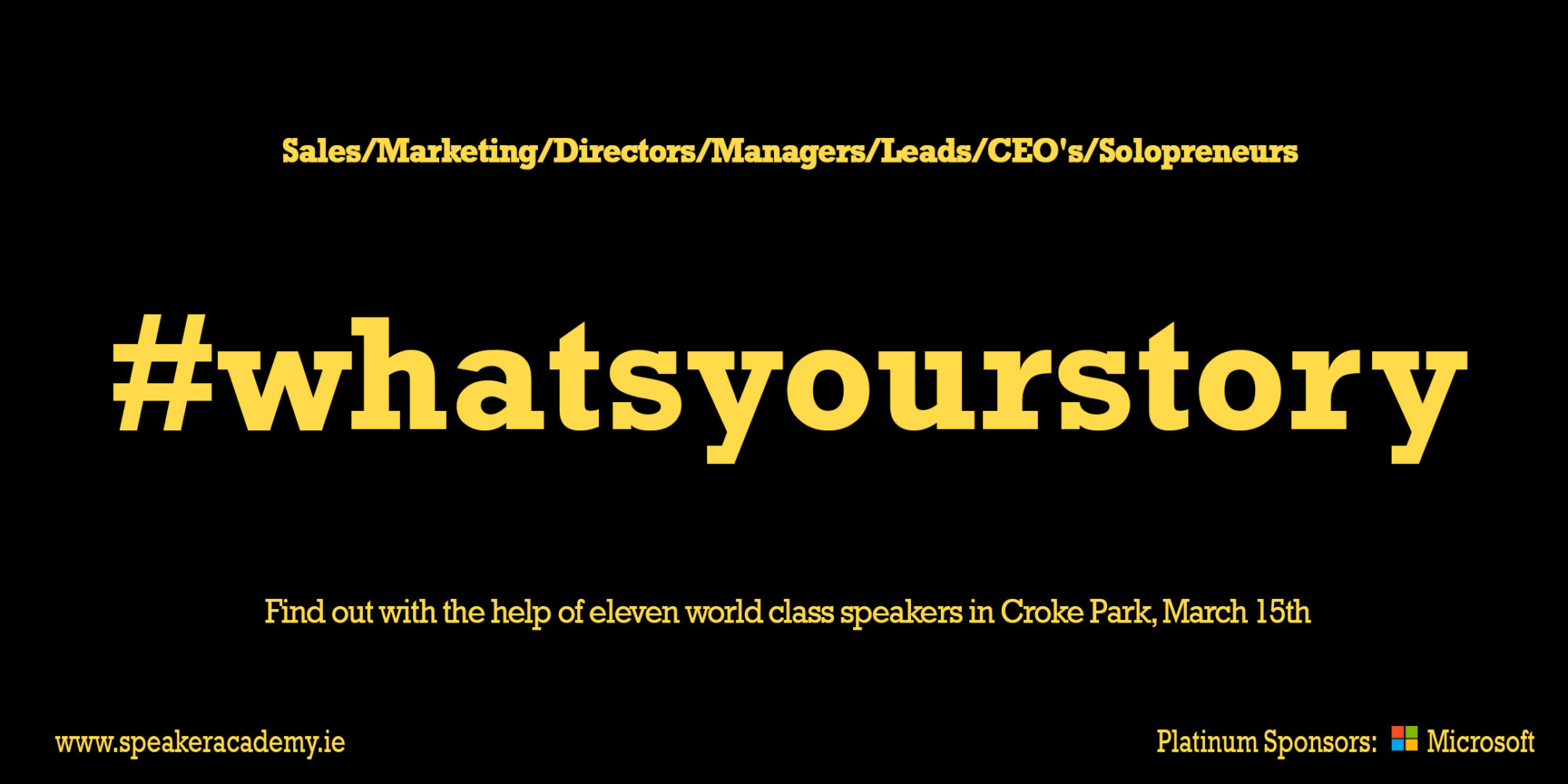 "Stop writing about general subjects – tell me the nuts and bolts of bringing a thought from concept to execution," my friend advised. So here it is!
The why?
In February 2016, I organised the very first Speaker Summit for Ireland. (www.speakeracademy.ie) It was a fantastic event both online and off. To my amazement; we managed to record 1,650,000 twitter impressions and trended for most of the day. Party time….well actually not! I didn't receive one direct enquiry as a result. I found this rather intriguing. Why?
Because on the law of averages; if I addressed any audience around the world and proceeded to bore the life out of them; there would be at least one person that wanted to talk to me after the event! It most certainly got me thinking about the theme for the next conference if I chose to do one!
That Summer, I coordinated a campaign to help raise €450k for three pieces of sporting infrastructure required in my local community. We distilled the essence of the campaign into a hashtag #fiveraweek. With a target audience of three thousand households and zero budget, we managed to achieve our objective in approx. four months. Yet again a very interesting pattern emerged – though a very strong awareness campaign was ran through facebook – 99% of the funds generated were sealed on the doorstep. In that time period; common questions posed were "How the hell did you do that?" …."when did you know how to use humour" …."how come dealing with objections comes easy to you" and so on. I think you know where all this is going.
The what?
At the end of the Summer, I decided that due to the size of the market here, another speaker summit wasn't an option. But it was clear that all road signs were pointing me in the direction of a Sales conference.
But there was more –one of my talented ecosystem – indeed probably one of the best event organisers in the world, Padraic Gilligan posed a rather intriguing question when we were discussing the event – "Why do you want to organise a conference in the first place? Is it for your own personal brand awareness? Is it for money? What?"
That got me thinking but happily the answer was at the top of my consciousness.
"I want to create a product that shows people around the world that Ireland is best placed to teach the world how to sell, persuade, tell stories. It is not about brand awareness for me as most of my work is abroad. And of course it would be great if the event was a success."
"Storytelling," replied Padraic.
Of course it has been mentioned may times to me – indeed a US publisher had approached me to write a book on the topic two years previous but this time it felt 100% right. I realised that instead of yet another Sales Conference; we could marry Sales and Storytelling and deliver an interactive, unique event.
That evening I spoke to my buddy Fergal on the phone – I mentioned the idea to him – Sales and Storytelling together. The line was bad so he blurted – did you say "Storyselling?"
No! But I love it…..we have a theme #Storyselling!
The when and where was easy!
It had to be around St Patricks Day March 15th to be exact – the time of the year when the world goes green and celebrates Irishness. In time, we may attract the Executives travelling to Ireland for the festival to take in a conference which focuses on the hottest topic in business – Storytelling. The venue Croke Park, Dublin …where else!
The who not as easy
Immediately I knew two people that would rock Croke Park – 1) Tim Sanders New York Times Best Seller and Sales/Leadership Guru (I don't use that word too often.) As it turns out Tim had just published a book on what next in the Sales World – Dealstorming.
The second person was the brilliantly talented Richard Denny –Author of the International Best Seller "Selling to Win" who I had the deep honour of sharing the stage with in Iran a few years back.
And I guess I knew I could add some value to the conference also.
Let the negotiations begin.
When I shared my thoughts with Richard at the end of the Summer; he was excited and delighted to work with me on the project. He had a health challenge that he had already beaten and was confident he could do it again. Secondary lung cancer. But Richard had no interest in talking about it – his focus was on the conference and his participation.
When I spoke to Tim and negotiated a live performance – I started to spread the message that Tim and Richard were on the bill to critical acclaim. We definitely had a winning combination in my mind.
The name
Say what's on the tin was the advice of many of my mentors – stop trying to be clever!
I had many variations – Accelerate your Sales – Jumpstart your bottom line and many others too weak to share. But I kept thinking and kept asking people for their opinion as I always DO!
A few weeks back I sat with Joan Mulvihill who paused while I was speaking, took out a piece of paper, wrote on it and placed it in front of me "Sell: Your Story."
Brilliant Joan – that's it!
Unfortunately on Nov 17th I received the email no one wants to get – my great colleague and friend Richard had lost his fight and died peacefully at his home. May you dance in the heavens Richard . Richard Denny RIP.
"Sell: your story" is on in Croke Park, Ireland on March 15th 10am to 4pm – check out www.speakeracademy.ie for details of all the Speakers and Content. From AI to Storytelling, from Sales record Breakers to Sales Visionairies,  we have you covered. #staytuned for the next part of the story on Linkedin.